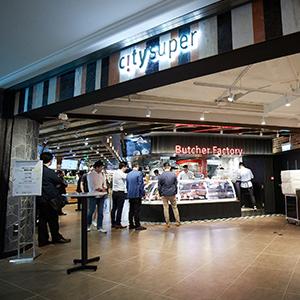 Amazing Food Hall
2019/11/16
The brand new Amazing Food Hall has opened at city'super Times Square store with an innovative "Buy & Dine" and "Dine & Buy" one-stop shopping and dining concept, where dishes are made using premium ingredients from city'super that promises to rock your palate.
Seafood Kitchen
Fresh seafood offered is flown in daily from around the world, highlighting the Catch of the Week.
Butcher Factory

city'super sourced a range of ingredients from international farms, giving you taste of the globe.
Sushi & Sashimi
Sea Urchin Sashimi Rice Bowl filled with Hokkaido sea urchin is both instagrammable and delectable.
Oyster Bar
Fisherman Seafood & Oyster Platter with elegant bird cage, features a selection of seasonal seafood.
Noodles & Pasta

city'super gathers the best of noodles from around the world in one location and prepare for you a-la-minute.
Super Green
Developed a "Super Green Bowl" concept, which incorporates nutrition, tastiness and satiety in one healthy dish.
Wine Town
Over 1,500 choices of wines and sakes, with beautifully-designed venue will be a new Happy Hour hot spot.
---
New Japanese Delicacy Warehouse Concept Area at Times Square store
What's more, you can find ingredients and delicacies from across Japan sourced by Japanese buyers and food experts at the "Kura" food zone, with renowned dashi store Kayanoya opening its first overseas store there, and a special bar counter that allows you to enjoy sake and snacks – just like at a Japanese shokudo!
Saka-gura
Special sake sourced by Japanese buyers and local experts.
Kome-gura
Premium rice imported from Japan.
Aji-kura
A series of Japanese condiments with rich aromas and authentic Japanese flavours.
Hakataya
Boasts 20 years of experience in making the best artisanal soy bean products with beans from Canada.
Kayanoya's First Overseas Outpost
Only uses natural ingredients without adding additives to produce its dashi.
Kura Counter Bar
New heating service and beautiful selection of sakeware, offering a Japanese shokudo-like experience.
Street Deli
Will be debuting this winter with heartwarming European snacks.
Foodie Bites
A French chef has crafted a selection of canapes and tapas using cheeses from all over the world.
Explore New Experience at superlife culture club
Enjoy Shabu Shabu with seasonal vegetables, premium Japanese Yamagata Wagyu beef and pork.
Health and Wellness Area
New Health and Wellness Area caters to modern needs.